About the Archive               Board Members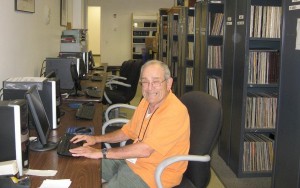 The Sarasota Music Archive is part of the Sarasota County Library System, and is connected to the Special Collections Department of the Selby Public Library. It is one of the leading reference collections in the field of music, containing an enviable cache of several hundred thousand recordings, tapes, sheet music, books, and memorabilia. Membership dues and private donations help to fund the archive.
Originally established in 1980 by its founder, Mildred Petrie, the Archive was begun by a group of dedicated volunteers in a strip mall storefront. It soon grew large enough to move into its own building and eventually merged with the Selby Library in 2000.
The collection encompasses classical, opera, jazz, popular, folk, and international music, as well as video recordings. Recordings may be in the form of Edison wax cylinders, one or two-sided shellac disks, long-playing vinyl records, cassette tapes, 8-track tapes or compact discs.
There are several listening stations available where recordings can be perused. There are also special collections, such as the complete recordings of opera singer Enrico Caruso, the band music collection of Merle Evans, as well as thousands of hours of radio programs.
More than 40 volunteers donate hundreds of hours per month to run the Sarasota Music Archive. They are music lovers from various backgrounds including scholars, accountants, doctors, and musicians. Volunteers are responsible for cataloging the material and creating and maintaining the computer databases. They also stock the shelves, do mailings, answer the phones, plan programs and events, and provide assistance to the public.
Most of the recordings and sheet music have been donated. The Sarasota Music Archive raises money by selling donated materials that are not needed for the collection at very reasonable prices. The SMA is located on the second floor of the Selby Public Library at 1331 First Street in downtown Sarasota. It is open to the public Monday through Thursday from 10:00 a.m. to 3:00 p.m. Please note: the Archive is closed Fridays and Saturdays.
Board Members
The Sarasota Music Archive currently has 15 board members with a broad area of expertise in music and music related subjects.
John Goodman
Bob Constantino
Dave Berry
Joe Holt
Margo Light
Joy McIntyre
Pierrette Perron
Arthur Siciliano
Carole Crosby
Sylvia Eckes
Sam Lowry
Diana Walters
Gail Berenson
Phyllis Lowitt
Barbara Brian