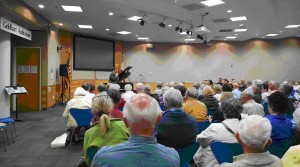 Pianist Gregory Martin
Sarasota Music Archive Events
2018
Geldbart Auditorium, Selby Public Library
Events sponsored by the Sarasota Music Archive and the Friends of the Selby Public Library
Summer Music Series 2018
presented by John  Goodman
Wednesdays, 10:30 to 11:40 a.m.
"The Comic Operas of Gilbert and Sullivan"
5 Sessions
July 11, 18, 25 and Aug 1, 8
Fall Music Film Series
presented by members
of the Sarasota Music Archive
board of directors
Wednesdays at 2:00 p.m.
October 24: Joy McIntyre, "Erich Wolfgang Korngold"
November 14: Diana Walters, " Famous Operatic Duets with Superb Singers"
December 5: Phyllis Lowitt, "The Great Tenors,"
Voice of Firestone Classic Performances, 1950-63
Friends of the Library, Fall Music Events:
Opera Talk
presented by Phyllis Lowitt
October 3:
Verdi, "Aida"
November 7:
Rossini, "The Barber of Seville"
2019 Winter Lecture and Performance Series
 Wednesdays at 10:30 a.m. – 11:30 a.m.
except for the Sarasota Studio Artists which is March 13 at noon.
January 9: Chamber and Solo Works by Winners of
the Suncoast Competition:
Andrea Guaita, violin;
Lindsay McKenna, cello; Marco Jimenez, piano
January 16: Close-Up on Opera:
"The Basic Elements of Opera," John Goodman
January 23: Daniel Baer
 Piano Works of Bach, Szymanowski, Chopin, and Debussy
January 30: Close-Up on Opera:
Puccini, "Turandot," John Goodman
February 6: "Live from the Archive"
Sing-along to songs from the 1920s to the 1940s.
February 13: Close-Up on Opera:
Mozart, "The Magic Flute," John Goodman
February 20: The Blue Heron Sextet
Jazz, Latin and Brazilian music, Harry Miedema, director
February 27: Close-Up on Opera:
Verdi, "Nabucco," John Goodman
March 6: Tom Purviance
Piano Works of Chopin

March 13: at noon, Sarasota Opera Studio Artists
March 20: Close-Up on Opera:
"Wagner's Ring Cycle – An Overview," John Goodman
March 27: Close-Up on Opera:
Wagner, "Die Walküre," John Goodman
Programs are subject to change. Check back here for any updates.
——————————————————-
The Archive is part of the Sarasota County Library Special Collections Department of the Selby Public Library, the Sarasota Music Archive is one of the nation's leading music reference collections containing several hundred thousand recordings, tapes, music scores, books, and memorabilia. The collection includes opera, vocal, choral, musicals, jazz, popular, folk, instrumental, and orchestral music. Recordings may be in the form of Edison wax cylinders, one- or two-sided shellac disks, LP vinyl records, laser disks, DVDs, or compact disks. A listening station is available at the Archive.
The catalogue is online at: www.sarasotamusicarchive.org. Volunteers check and catalog donated materials, plan programs and events, and provide assistance to members and the public.
Recordings and music scores that are not needed for the collection are sold at very reasonable prices to the public. Materials may be copied.